August contents:  Never underestimate the therapeutic benefits of gardening!.... Growing new potatoes for Christmas.... Barely controlled chaos!..... Aubergines, Peppers and Tomatoes..... How to get second crops of Climbing French Beans.....Time to think about winter now!.....Routine jobs......
 A small selection of just some of the produce currently available from the polytunnel.  It's a sumptuous feast for the eyes, the body and the brain!
Never underestimate the therapeutic benefits of gardening! 
After almost 4 months of not being able to garden at all due to breaking my ankle - I can't tell you how good it feels to get outside and get my hands into soil again!  Best of all though, is the wonderfully healing fresh organic produce which I can pick, that makes such a difference to our everyday meals. Some of it is quite a bit later than usual - but better late than never!  Luckily things grow fast in midsummer - but I must say it took quite a bit of willpower to make myself get out there and start doing something while I was still in considerable pain. I'm so glad I did though, and moving around gently is often the best thing, as most pain comes from stiffness.  I never take any anti-inflammatory or other medicines, as Nature heals most things given time and the right nutrition - and without any side-effects! 
After eating mostly out of the freezer for 4 months - apart from some lettuce I planted on the stepladder garden while standing on one leg - already I'm spoiled for choice of what veg to eat next!  It's quite a job to actually find space on our plates for any meat at all - but that's how I've always liked it!  To have so much frozen veg and fruit is always useful - particularly in emergencies!  But I always feel that fresher is better - especially when it comes to the beneficial bacteria that come as part of the natural package! Every day now more science is proving not just how good eating fresh produce is for our body - but also how good it is for our brain and mental health too!  Not only that - but to be among such an abundance of Nature - which just totally lives for the moment - pulls us into that moment too, and is a really good feeling that money simply can't buy!  The little Robin that follows me round the garden and comes to eat out of my hand - or the frog who cleverly sits on the valve that lets cool water into the rainwater tank, in the polytunnel from the water butts outside on the north side of the stable, can teach us much. They are both wonderful examples of the old adage 'Carpe Diem' (seize the day)!  
Growing new potatoes for Christmas
However - while living for and enjoying the moment is so important - later on I talk about how important it is to think about winter crops now - or we won't have any! Already I'm potting up potatoes for Christmas - especially important for us this year as I grew none outside due to my injury. You can use any sprouted potatoes for this, as all of them will grow, but first and second early types are the most reliable if you have any left from early crops. Alternatively you can buy suitable tubers for growing Christmas crops from garden centres now - although these may not necessarily be the best-flavoured types. These are just tubers which have been kept in cold storage from the same spring planting seed tuber crops that suppliers would have been selling in spring.  I do that with some of my spring planting tubers saved from the previous year - which by this time often have very long sprouts on them - often 30 cm or a foot long!  Long sprouts aren't a problem though - I just lay them on their side and wind them gently around the pots - usually using 2 or 3 litre pots for these Christmas crops. I also normally save healthy small tubers from the current year's early crops. Either way works fine. 
If I'm saving some of my early crop for doing this - I dry them off in the sun for a few days and let them go green, then I put them in the fridge to chill them for a week or so before planting in the pots.  But I'm not sure doing that is strictly necessary.  Potatoes are always keen to grow whatever the time of year - as anyone who has ever accidentally left a bag of them half-finished at the back of the veg cupboard will know! When they're potted, just keep them outside for a few weeks somewhere where they'll get good air circulation, to hopefully avoid late blight. Then bring them into the polytunnel as soon as any frost is forecast.  From then on always cover them at night with fleece just in case. and don't over-water or they may rot at this stage as they won't be growing strongly any more - just 'ticking over'. It may seem like a bit of a faff I know - but at Christmas your 'new' potatoes will be a real treat - and you'll be so glad that you went to the trouble of doing them!
The most important place in my Polytunnel Potager - my seat under the peach trees. Here I sit and think - surrounded by scented herbs & flowers, with lemon verbena either side of me, Nicotiana behind me - bees buzzing, butterflies dancing around me and birdsong.... This is my personal Narnia - pure Paradise!
Barely Controlled Chaos best describes the polytunnel right now!
The picture above shows a small selection of some the produce which I'm picking from my polytunnel now. T
rying to take a picture that shows you the entire polytunnel would be absolutely impossible - you wouldn't be able to see a thing except leafy abundance!
It's a veritable fruit and veg jungle at the moment - stuffed with good things to eat in every corner - in every nutritious colour of the rainbow! And the kitchen is full of crates of produce being preserved for the winter - so that's chaotic too!
The picture shows just how much fabulous produce it's possible to grow in a polytunnel without using any chemicals - just by working with Nature a bit of TLC. I love to take lots of pics at this time of year - it's so nice to have them to cheer myself up in the depths of a long wet Irish winter!  It's also nice to have lots of produce stored for the winter. Anything that doesn't get eaten fresh makes it's way either into the freezer or dehydrator. There are 11 varieties of tomatoes in the picture, most of which are either made into my 'Totally Terrific Tomato Sauce'
and frozen in portions (recipe in that section) - or just frozen whole for saucing later, if I'm short of time. Only Rosada and Incas dehydrate really well - but Blush is quite good too. And all the fruit makes a really special treat when semi-dehydrated to soft 'leather' stage into chewy fruit sweeties! They're the only kind of sweets that get eaten here - with the occasional bit dunked into melted dark chocolate - now that's serious decadence!
Borage, sweet potatoes behind - with convulvulus, marigolds, feverfew. Endive & beetroot flowering for saving seed at far end & also peaches - with a Flame grapevine in middle in the right hand side bed!
A few years ago, year someone who had just put up a new polytunnel asked me if I could put on a whole page of tunnel photos as they needed some inspiration!  Someone else asked me if I could walk around once a month and take a comprehensive video.  While they were both brilliant ideas - apart from the time it would take which at this time of year I don't have with so much work to be done - when I walked round my tunnels later with these ideas in mind and tried to take a few photos - I realised that it would be impossible to get a real idea of what's going on in them without a lot of description too - which is what I've tried to do in my blog over the last few years, in my 'Late Lunch' radio feature on LMFM, and more recently in my daily Tweets. You don't need to have a Twitter account to see these.
The picture above provides a small 'vignette' of my polytunnel potager garden - which is repeated in various combinations all around.  I try to have a balanced ecology which echoes the garden outside and because of this it's almost impossible for anyone to get a true picture of what's really happening in there - especially at this time of year. Unless one examined it inch by inch - it's so like a jungle that it's impossible to see it all! So many things are growing through things, around things, underneath and up and over things - just as Nature grows things. There's a riot of vegetables, fruits, flowers and herbs, with happily buzzing bees and butterflies everywhere - and also sparrows and other small birds flitting around hunting for insects to feed their broods. There's even a few resident frogs. It's very hectic and really difficult to see anything too clearly, and to get a sense of just how much is going on. No neat rows of crops with wide, uncultivated spaces in between, as one sees in many polytunnels. I think the best term for it is 'controlled chaos' - barely!  It's a fine line I know - and one has to take care that things don't sometimes get smothered, or by reducing air circulation too much one encourages disease. Science is no proving what I always knew in my gut from observing Nature - and that is that communities of plants are actually much healthier than monocrops of just one type of plant. You can see what I mean from the picture of the sweet potato bed above! They actually have beautiful flowers too. So often the photos of my vegetable beds look more like flower borders - but then that's just how Nature loves to grow things - and that's why the plants are happy and healthy! Sadly though, it does make it rather difficult to take photos that don't just end up looking like one great big colourful and leafy blur! So as I've already said - this month, the tunnel looks like a very colourful jungle! But there's a very fine line between trying to make every possible inch productive, or the whole lot descending into total chaos - and believe me - it's not far from that right now!! Hardly any space to walk around the tunnel at all without tripping over or walking on something!
I've been growing with Nature in this way ever since I started vegetable gardening - over 40 years ago now. Before that I just used to arrange flowers from my parents garden - and I think I'm probably still doing that subconsciously!  It always just seemed a far more natural way of growing to me - and I love creating attractive ad successful planting combinations. Back then it was called 'inter-cropping' or 'catch-cropping', and companion planting. 'Permaculture' enthusiasts have now re-named it 'Polyculture' - but they didn't invent it - they're just using a fancy new name for something good organic gardeners have done for centuries - and Nature has done forever! Nature doesn't do 'monoculture' and neither do good organic gardeners! Over the last few years I've seen so many people announce they've discovered so-called 'new' ways to garden - with either very inventive new names, or using old names forgotten except by older people. I have a huge collection of old Soil Association magazines going back to long before I was born and they're utterly fascinating. They knew about the benefits of soil bacteria back then - even without the benefits of modern electron microscopy!
For instance there was a debate about the merits of 'no-dig'  way back in 1947 - and the inter-planting of maize with cover crops like legumes in the former Rhodesia was nothing new - likewise 'no cultivation' and 'surface mulching' of fruit.
 Equally fascinating was the fact that camel dung was not used in Mongolia!!  I would love to have been able to ask "why not?" Seriously though - there's nothing new under the sun and I often wish that the people who originally discovered and wrote about such things were actually given some credit for their original ideas. 
Lady Eve Balfour, H. J. Massingham and Lawrence Hills may not have had the advantage of all the modern scientific instruments that we have now - they just did what they felt was right in their gut - and observed their results closely. They knew then as apparently so many people are only just 'discovering' now - that proper stewardship of the soil was the only sustainable way to grow healthy crops.  
They were constantly experimenting to find out how to mimic Nature and to grow crops better. It's such a great pity that more people didn't listen to them back then - instead of being seduced by the impressively fast results of the nitrogen fertilisers and other toxic chemicals which have been responsible for destroying so much precious biodiversity, and have caused so much illness, misery, biodiversity loss and environmental pollution!
In photos of other peoples gardens or tunnels, who perhaps grow commercially - there are often beautiful long rows of crops which one can take lovely clear photos of. Funny - but I don't think that's so beautiful! Controlled - yes. Natural - no!  Some of them look more like monocultures - with great swathes of bare soil between the rows - and those people quoting the old fashioned phrase that "we should be keeping the hoe moving"! Sorry but that's rubbish - science says different now and it's also not the way that nature grows things. Nature never leaves soil bare as I've often said before. It always covers it with some plant or other unless it's too poisoned for anything to grow at all! I rarely see those people growing flowers among crops either - as I do. Apart from wanting to grow my plants as naturally as possible - I also want them to have the highest nutrients possible - and you don't do that by leaving huge areas of exposed soil. In addition - now that I don't grow commercially any longer, I want the widest possible range of crops for me and whatever members of the family happen to be around at any given time. 
Things need to be a lot more flexible and I like to have a good choice available all the time. I like to experiment too, so I tend to grow quite short rows of many things, depending on how productive they are. I try to use every possible inch of valuable tunnel space either to provide food for us, or for the wildlife that helps to keep any pests under control, whether that's outside or inside in the polytunnels. I try not to have large expanses of bare earth that I hoe or weed - which would obviously make it far easier to take nice clear photos. That's not very good for soil though. Nature doesn't grow things like that - and I try to replicate nature as closely as possible. I think this is why everything works and I don't have any so-called 'pest' problems - even when growing in containers. Nature invented a food chain where everything depends on everything else and it all works perfectly. It has a beautiful equilibrium. It's only when man intervenes with chemicals that some species are wiped out, others get the upper hand and then perhaps become what we humans have termed 'pests!  I try to mimic Nature by growing as many things together as I can, as naturally as possible.
Here on my blog I try to show people that you don't necessarily need a large garden
, to be able to grow some healthy food for yourself and your family that can make a contribution towards the household budget. I also try to convey that 'growing your own' shouldn't have to take over your life either - and that it is possible to fit it into a normal busy life full of other interests that we all have. Organic gardening is only part of my life, although it's a very important part as I try to grow all the fruit and vegetables that we need all year round. But I do many other things like most normal people. I don't just garden and do nothing else - so time is also a factor. I have just the same amount of hours in a day as anyone else!  The garden often has to look after itself for much of the time. I just dash in and out to water occasionally in the tunnels or to grab something for supper! I have to say though - that without the tunnels I'm not sure I would continue vegetable gardening! The challenges of increasingly unreliable weather would make it nearly impossible in our wet climate. With a tunnel large enough to supply a family of four with a good range of food all year round costing probably less than most family holidays these days - I think they're terrific value. I worked out years ago that if they're used properly, all year round - they should pay for themselves 
in two years - if we're eating the correct amount of fruits and vegetables we are supposed to eat in order to be healthy!
Aubergines, Peppers and Tomatoes 
Aubergine
'Bonica' (pictured here) is as usual cropping really well. The fruits look so beautiful it's almost a shame to pick them!
. Each of the plants has already produced 5 or 6 fruits and has loads of babies developing. Sutton's and Simpsons sell the seed of this one and it's the best variety I've ever grown - it's thoroughly reliable and I now grow really good aubergines every year - despite our unreliable climate here in Ireland.
'Bonica' came out top of the Royal Horticultural Society trials about 10 years ago
 and it's easy to see why. It's currently producing huge, beautiful minimum 12-13oz plus aubergines faster than we can use them - some weigh over a pound or around 500g!  I freeze any that I don't use immediately. They're sliced - brushed with olive oil and frozen on sheets of grease-proof paper, then bagged for winter use. They can then be oven roasted straight from frozen.  By the way - I never salt them - it's not necessary with home grown ones and ruins their sweet, almost meaty flavour. Considering that even non-organic, chemically sprayed ones are over a euro each at least in some supermarkets - they're well worth the extra TLC and they're very happy in the recycled coleslaw buckets as you can see from the picture here! Aubergines need careful watering - never soaking them near the stem as they are very susceptible to stems rotting near the base. Peppers need the same careful cultivation and watering for the best results.
Tomato art! Some favourite delicious beefsteaks.
We always look forward to our first Caprese salad of the year 
with huge anticipation! 
 This year because of the heatwave we enjoyed it earlier than usual - and we've had several since. Although our absolute favourite for this is Pantano Romanesco - which has no equal for flavour if it gets plenty of sun as it has done this year - I discovered a lovely new variety of tomato a few years ago. It's a heritage variety called Moonglow which came from Simpsons seeds and has a lovely fruity, quite unusual, almost 'apricotty' flavour. We really enjoyed it with Green Cherokee, Nyagous and with a huge slice of Ananas Noir in the centre of each plate - it looked almost too good to eat it looked so pretty - but we managed to force ourselves! Our classic Caprese though is usually thick slices of juicy beefsteaks Pantano Romanesco and John Baer (a wonderful very early tomato from Plants of Distinction with a split personality which produces some beefsteak-like and some classic medium tomatoes with a fabulous flavour). With it we have some really good yieldingly-soft buffalo mozzarella (pizza standard cow mozzarella just won't do!) - dressed with my pesto dressing (a frozen pesto cube dropped into in more olive oil which thaws and dilutes it), a few grinds of black pepper and prettified with some shredded basil.  Accompanied by some crusty ciabbatta still warm from the oven, to mop up the juices, it's heaven on earth. One is instantly transported to the Med.!  What more could you want?  You can close your eyes and feel that you're perhaps sitting in a little sun-warmed piazza somewhere in Italy in late evening - and almost imagine that when you open them again you will see a gilded campanile silhouetted against a cloudless turquoise sky!............
Tomatoes Amish Paste, Green Cherokee and Indigo Rose 
 
I can't believe that it's already time to 'stop' the tops of the tomato plants. This year seems to have flown. When the plants have reached the top of the 8 ft bamboo canes which support them - normally when they have 7 or 8 trusses on them depending on the variety - I cut the tops off. I like to keep a bit of air circulating above the tops of the plants, so I don't like to let them grow right up to the roof of the tunnel, as many people do. Usually the plants won't ripen more than eight trusses anyway in a polytunnel in our climate here, because the air becomes more humid and the light much less as autumn approaches. In a tunnel which is only growing tomatoes, where you can keep the air much drier for them, you could allow them to carry more, by training them up twine which you let out, lowering the stem along diagonally - I used to do this when growing commercially. But most gardeners want to grow a wide range of different crops in their tunnels at the same time - this makes it more difficult to keep the air as dry as possible for crops like tomatoes, aubergines and peppers. Some other crops like cucumbers and melons need more watering - making the air much more humid, so it's really a bit of a juggling act. At this time of year it becomes even more important to be really careful with your watering - watering in the mornings if possible to allow the atmosphere to dry out a bit - rather than watering late in the evening - particularly when a cold night is forecast - as this will hasten the demise of most tender summer crops! Careful watering will ensure they last that bit longer without disease.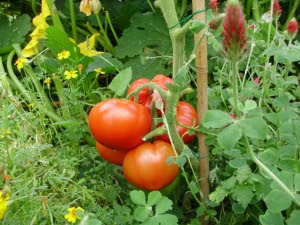 Pantano Romanesco - in my opinion the easiest and also the best tasting beefsteak
I walk round at least two or three times a week now with a large bucket, cutting off any damaged, diseased, or dead foliage (the 3 D's
), or whenever I see something as I'm picking crops. Using a knife or scissors for a clean cut - or stems may tear and then let in disease. This is really important. Diseases, particularly grey mould (botrytis) can spread like wildfire on the muggy, gloomy grey days we often get in August here in Ireland, even with all possible ventilation. It's a particular problem where we live - where we can get a sort of low cloud/sea mist for days on end, which often only lifts for an hour or two around lunchtime, often descending again around 
3pm
. Tomatoes really hate that sort of weather! The continental beefsteak types are the most vulnerable, and must be watched really carefully. I actually pick them with secateurs to avoid tearing the truss stems. Take a look at them every day and pick off anything dodgy looking immediately. You'll often see the shrivelled dead flower petals still clinging to the end of the swelling fruit, it's a good idea to gently pick this off, it is a bit fiddly - but if you don't - disease can often start there and very quickly turn the whole fruit mouldy and rotting, then spread to the rest of the truss. The trusses need to be kept really clean and free of any detritus. As I've said before, they are not really that happy growing here in polytunnels, they'd really much prefer the hot summers and brilliant light of the Med. - but their wonderful flavour makes a bit of extra TLC worthwhile!
That thought keeps me going through the winter. You can't buy a tomato that tastes anything like them anywhere in Ireland - but they do bruise incredibly easily when properly ripened.  The commercially grown types are bred for 'travel-ability' and shelf life - not tender, melting, luscious flavour! Basil is a bit fussy too, but if you're really careful with watering, pick off browning or diseased leaves immediately and keep pinching out the flower buds - it should keep going all summer.


Don't cut off curling up tomato leaves unless they are discoloured or going brown, or grey and mouldy at the tips - curling up is normally caused by excess heat a couple of weeks earlier, or depletion of nutrients as the plants get older. Only take off the first couple of leaves below the ripening trusses to help improve air circulation - even if they are still green. The others further up are needed to help the plant to photosynthesise and to keep drawing up the sap. Keep looking for any side shoots which may still appear all down the stem. Be very careful with the watering in the whole tunnel now. Try to water in the mornings if possible, on a day when sunny weather is forecast, this gives surface moisture a chance to dry off before the tunnel is closed in the evening. Watch the weather forecast, try to plan your watering and don't go soaking the whole tunnel thoroughly if wet dull weather is forecast for a couple of days. Try to keep the moisture content of the soil fairly even. Fruit may split if the roots have dried out too much and the plants are then soaked, and uneven, erratic watering can also cause 'blossom end rot' (where the fruit gets round black patches on the flower end) or the small fruit may even drop off altogether. 
Tomato & herb stepladder garden
I feed all the tomatoes now, with a half strength feed, at every other watering, as the slightly yellowing lower leaves with paler top leaves can be a sign of lack of nutrients. The top ones should still look healthy and green. The 'Maskotka' bush cherry tomato in large pots is looking particularly hungry now, as it started cropping really well at the beginning of June. It's a fantastic little cropper - every time I think it surely must finish soon, another flush of flowers appears! I think just one or two bushes would definitely keep one person in tomatoes for most of the summer- and could even be grown on a sunny balcony as they don't make huge plants. They hang from the plants like bunches of grapes and the flavour is utterly delicious! I have had a few split ones - but this was my really fault as in the hot weather they've really needed watering every day, because of being in pots instead of the tunnel soil, and there were one or two days where I was very busy doing other things and just forgot! This year my stepladder garden is tomatoes and herbs - Basil and Oregano. It's been hugely successful. This would fit onto any balcony or into even the tiniest of gardens! I used Tumbling Tom on top, with 'Maskotka' in a large pot at the bottom as it makes a larger bush, with 'Sweet Pea Currant' either side, and 2 plants of the smaller '42 Days' tomato in between. 
Get a second crop of Climbing French Beans 
'Cobra' French bean top & 'Golden Gate'
We're starting to get a good crop now from the Cobra climbing French beans I sowed in mid-June. I normally start them off much earlier, but many sowings this year have been delayed due to breaking my ankle in March.  I keep picking them regularly, because French beans will quickly stop producing more if they get too big and stringy and start developing seeds. If your French beans have just finished cropping, and you don't want the ground immediately for something else, you can carefully strip all the leaves completely from the plants, snapping them off with your finger and thumb just where the leaf stalk joins onto the stem. They do this quite readily. Then give them a feed and water (avoiding the base of the stem as usual), and give wider the root area a nice mulch too - avoiding the base of the stems or they may rot. Within a few days, you should see tiny new flower shoots developing in the leaf axils. These will carry another later crop on into the autumn. 
French beans are one of the most productive crops you can grow in a tunnel and well worth growing, particularly in Ireland, where our summers can often be wet - which French beans absolutely hate. They're one of the very best crops for freezing too. Just loose freeze quickly without blanching, bagging up afterwards. The round podded, stringless variety 'Cobra',  is totally reliable, incredibly productive and absolutely delicious. It's actually an improved form of the old variety 'Blue Lake'. Beans fit well into the rotation plan in a polytunnel, making a good break between tomatoes and cucumbers, and also fixing nitrogen for following winter salads and greens. I trialled a new French bean - 'Golden Gate' from Dobies a couple of years ago. This was supposed to be really early, with good setting of flowers, very tasty and productive,  ideal for tunnel growing. It was none of those things, in fact it was absolutely pathetic and tasteless into the bargain! So I won't bother with it again - I shall stick to 'Cobra' as ever! Quite apart from anything else, 'Cobra' seed is about a third of the price (particularly in B&Q). Golden Gate was an attractive golden bean, that's all - and a few people commented that it looked pretty!
Delicious white flowered runner bean Moonlight 
Five years ago I tried another bean experiment! As you'll know if you're a regular reader - I love experimenting with different ways of growing
. I also love the taste of fresh runner beans, but I live in a windy spot here - and every year, when growing runner beans outside, as soon as they're carrying a full crop in August along come the early autumn gales and destroy them. Literally blowing them to bits - no matter how well-supported they are! So I decided to try some inside! As white-flowered runner beans tend to set pods more easily, and I always have a lot of bees in the tunnel anyway, I thought it might be worth trying what was then a new partially self-fertile variety called Moonlight - bred by crossing a French bean and a runner bean - thinking they might be amenable to growing in the tunnel. Lo and behold - I was right! I know most people grow them easily outside - but we seem to get particularly strong 'autumn' winds up here in mid-August. Since there are always plenty of bees in the tunnels because I grow so many flowers in them - there is no problem with pollination and for the last 5 years I've had delicious runner beans from them. Moonlight is a stringless and really delicious variety - which I think has just as good a flavour as Painted Lady which was always my favourite - but sadly it didn't really like tunnel cultivation.
Time to think about winter now!
In the midst of all this glorious abundance though - it's time for a serious reality check!  You really have to start thinking really seriously NOW about winter tunnel crops- if you want any! This month is your last chance to sow many of them if you want a really good selection of salads and other crops throughout the winter.  Although there won't be room for some time yet to plant most in the tunnel and it may also be still much too hot for them on any warmer days, if you don't start sowing winter crops now - it will be too late by the time you actually have the polytunnel space clear for them. There is a marked difference between many crops sown now and the same ones sown in early September.  Sown now - most things will start to crop well in late autumn and be productive through the winter, but put it off for another month and they may not start cropping until well after Christmas. This particularly applies to calabrese (broccoli), Swiss chards, Sugar Loaf chicory and some types of lettuce. I generally do two sowings of all these veg. as a 'fail-safe' method to ensure I have them, just in case some disaster befalls the first lot I've sown.  If they all survive successfully - you'll find a space to fit them in somewhere and will be so glad of them in deepest winter! You can start sowing these in modules outside now (if you haven't done so already) then bring them in as their space becomes available as summer crops are cleared.
Now is when good planning really pays off and it ensures that your polytunnel is as productive as it possibly can be all year round.
 To make the most of expensive tunnel space, you should always have something ready to plant as soon as a previous crop is cleared. There's a list of what you can sow now in the 'What to Sow in August' bit as usual. It's also a good idea to make a few notes now about this year's crops when things occur to you as you go round the tunnel - what's done well - what maybe needs a bit more space - or something you will do differently or maybe try next year, while it's still fresh in your mind. Keep a notebook and pencil in there - you'll forget by the time you get back to the house and something else interrupts your train of thought! This will help you to draw up an even better plan for next year's crops. You'll be ordering the seed for them this autumn if you want to get the best varieties as many quickly sell out.
Routine Jobs
 Keep ventilating as much as possible, leaving doors fully open during the day. I close my tunnels at night as even at this time of year a strong wind can suddenly get up from nowhere on the odd occasion, particularly before a sudden thunderstorm - and if it's from the wrong direction, it can rip off the doors and destroy the tunnel, as I've learned from bitter experience twice in the past! Closing the doors will also keep badgers and foxes out too - as they're extremely fond of the odd bit of ripe fruit or an easy to dig up worm or two!
A little extra care and time spent now, will pay off hugely, by keeping all your crops going much longer into the autumn. What often happens is things can get into a bit of a mess when people are away on holidays, they look at it all when they come back, lose heart and then just give up!  If you let things become a disease-ridden jungle at this time of year - and don't deal with it - then you're just storing up a lot of disease which you will get even earlier this autumn or next year. Good housekeeping now is absolutely essential! Be vigilant - it pays off! Clear any diseased plant material and also anything that isn't productive any more - and plant something useful for the winter. Soil likes to be kept working - and even if you just plant hardy vegetables that you could grow outside - things like lettuce, winter spinach, kales and chards still be two or three times more productive inside instead of being blown around by freezing winter gales and rain outside.
Keep weeds down along the sides of the tunnel a bit inside just a bit - these rob moisture and also stop air circulation - encouraging disease.
 
If like me you have very raised beds either in your tunnel, you almost have to treat them like giant containers or pots, as they do need watering a bit more often. On the other hand, the crops do tend to be slightly earlier because the soil is warmer - and the drainage is so much better. I get a very graphic illustration of this sometimes when we get floods elsewhere and there is water running between the beds! They are also an awful lot easier on the back too - which is why I put in mine! Mulching well does help too - as always - stopping evaporation, conserving moisture, providing nutrients and encouraging good worm activity. Preparing the soil well beforehand with really good home made compost or other well-rotted organic matter, to provide lots of 'sticky' water-retaining humus, is most important too.
(P.S.
I really enjoy sharing my original ideas and 40 years experience of growing and cooking my own organic food with you. It's most satisfying and naturally also very complimentary if others find "inspiration" in my work......But if you do happen to copy any of my material, or repeat it in any way online - I would appreciate it very much if you would please mention that it originally came from me, as it's the result of many years of hard work and often hard won-experience. Thank you.)