March contents: Taking care of Nature is taking care of our health and our children's future.... The Totally Terrific Tomato Festival is sadly not happening this year!...  Why IS genetic diversity in tomatoes important?.... It's time to start sowing as it's officially Spring!...  How I sow my Tomatoes - and other tender crops....  Use Peat-free Seed Composts...... Potting on Tomato Seedlings....  Purple Potatoes... Other crops etc..........

The latest 'must have' accessory in any organic polytunnel potager - a Robin singing in your peach tree. 
Taking care of Nature is taking care of our health and children's future
Do you know someone once said to me - "You could have a lovely aviary here"!  Why on earth would anyone want to shut birds in a cage to keep them from flying away?  I could never do such a cruel thing - and I don't need to - because my Robins are only too delighted to keep me company in the garden all year round because I take good care of them.  Little did I think two years ago when I  was clearing the rapidly developing jungle of brambles and weeds beside my polytunnel that the baby Robin who found all this activity of great interest would become a bit of a favourite on Twitter!  The jungle had sprung up in a rather neglected bit where I'd put a lot of pot plants and cuttings for shelter over a while before they found a home - as you do - and I hadn't got round to tidying it.  Then I broke my ankle March, couldn't do a thing for three months, and with the mostly mild wet winters of the last few of years, the brambles and general mess was growing at an exponential rate! I was utterly charmed by a dear baby Robin, who appeared as soon as I started on it, and got under my feet the entire time I was clearing it. He must have been hatched in a nest somewhere in the 'jungle' there, and he spent several days grabbing every woodlouse and beetle he could spot!  But the best thing was that HE had clearly spotted a very useful pet human, an alternative 'Mum' - who would not only provide him with regular easy meals, a sheltered spot to groom himself or to hunt for insects in wet and windy weather - but also somewhere safe to hide quickly from the Sparrow Hawks and Buzzards which are constantly hunting over here due to all the biodiversity - the birds and small mammals - which our organic land attracts. 
The most enchanting thing now is that he's also introduced his wife to me, who I think may be the same female as last year.  They seem to be nesting in the same place, high up in the Ivy in an old Hawthorn tree at the north end of the polytunnel, which they regard as heir particular territory.  Now she happily shares his regular mealtimes too, eating from my hand several times a day and taking it politely in turns. Such dear little birds - money couldn't buy the joy they bring me every day, and I hope also to the other people who view them on Twitter.  I've seen them both collecting nest material recently, so I think that Mrs Robin may soon disappear for a few weeks to incubate her eggs and raise their brood.  So in another few weeks there may hopefully be some new recruits to the polytunnel pest control brigade!
| | | |
| --- | --- | --- |
| | | |
| Robin and I having a working lunch in the polytunnel | Assistant Robin scrupulously checking for woodlice and other pests | Robin posing in the afternoon sunshine and singing sweetly after work |
Robin's antics since have proved without doubt (if there ever was any!) that polytunnels aren't just good for our physical and mental health, as I'm so often saying, but they also provide constant entertainment as well - in the form of all the wonderful biodiversity (Robins included) which they can attract if we plant them as I do - with flowers and herbs to attract beneficial insects, as well as food for us!  Every day Robin's antics make me smile or laugh - and he's clearly done that for many other people too.  I'm really thrilled that he has, because right now we all really need something to cheer us up - especially me, having lost a couple of dear friends recently.  There seems to be so much depressingly sad news almost every day about climate change, plastic pollution of our oceans, pesticides in food, or the dreaded Covid19 pandemic - which is still such a worryingly unknown quantity, despite it having been with us for over a year now. Perhaps my friendly Robin has also helped to make many people appreciate all the more how much we need Nature for our mental health, appreciate the wonderful biodiversity which we share this planet with - and be even more determined, as I am, to do everything we can to save it.  My friendly trusting Robin may be only the tiniest fragment of feather, bone and undoubted intelligence - but he is also a symbol of something much larger on a planetary scale - that we need to start taking greater care of the Nature which we share this planet with.  He represents the reason why I have been an organic gardener and farmer all my life.  
In all of human evolution - we have never put as much pressure on the natural world as we are doing now.  Everything from the minutest soil microbe, to the largest animals on land or in the ocean, or the food we feed our children, is being affected by the pressure we are putting on Nature due to the way we live and produce much our food.  Intensive industrial chemical agriculture is putting immense pressure on Nature globally, and also on human health, from the diet of often unnatural, industrially processed foods which so many people now eat.  We must learn how to share our space better with Nature on this finite planet, and to take better care of it before the damage become irreversible.  We need to understand that the food we naturally evolved to eat - organic food - is what keeps us humans and all of Nature healthy. Scientists are warning that unless we try to put less pressure on Nature - then deadly pandemics will undoubtedly become more frequent.
The Totally Terrific Tomato Festival w
ill sadly not happen again this year but sow those tomatoes anyway! 
Sadly 'The Totally Terrific Tomato Festival' will be not taking place at the National Botanic Gardens this year due to the on going Pandemic -  but I hope that next year in 2022 - we may again enjoy the most fantastically diverse display of tomatoes that you will ever see anywhere in the world!  Having originally founded the Tomato Festival  in 2012 i
t was truly wonderful to see them all displayed again so beautifully there on the upturned terracotta pots in 2019 - as you can see in the pictures of both sides of the display above in the Teak House. I never dreamt that it would become so big thanks to the efforts of so many dedicated tomato lovers! The joint effort established a new World Record of 256 varieties - mainly due to the hard work and generosity of The National Botanic Gardens and also of many great tomato enthusiasts.  Hopes for next year's Festival will be something else that we will need to cheer us all up - and at this time of year looking forward to that will surely re-energise and motivate even the most hardened of gardening enthusiasts!
Below, Matthew Jebb and I are posing with some of the wonderful array of tomatoes which he brought back to be displayed in the Teak House at the gardens after the end of the 2017 Tomato Festival in Kilruddery.  It was so wonderful to see them all on show in our National Botanic Gardens. I felt quite emotional leaving it for the last time at the end of the 2019 event - because for me it was the realisation of a long-held dream first initiated in the early 1990's - to use tomatoes as a colourful, eye-catching and appealing way to demonstrate the importance of preserving genetic diversity to the general public. I couldn't possibly have chosen a better, more appropriate or more beautiful venue for it, and I am very hopeful for it's long term future there now.  
Dr. Matthew Jebb & I, with the 2017 display of tomatoes displayed in the beautiful glasshouse at The National Botanic Gardens in Glasnevin. The 2018 and 2019 record-breaking displays were bigger and even better - taking up the whole Teak House as you can see at the beginning of this blog post.
So why IS genetic diversity in tomatoes important? - Whether we grow them or not, most of us eat them!
The importance of genetic diversity in food crops is something that I've been trying to make people more aware of for over 35 years now, by running various events - tomato, pumpkin and potato festivals - and also by giving talks at various venues like the National Botanic Gardens in Glasnevin, the Dublin Food Co-op, various farm walks and open days etc.  I had great support in the 1980s and early '90s from the HDRA in this - now Garden Organic - and was given seed of many unusual varieties by their Heritage Seed Library to help in this effort. Potatoes, pumpkins and tomatoes are such colourful, attractive and easy subjects to grow for festivals. They're so well-known and almost everyone grows them. People can also easily understand how important they are to our diet - as everyone eats them. But genetic diversity is important in other food crops too and it's really vital to grow the old, so-called Heritage varieties, always being careful to keep them true to type. We don't know when we made need any of the qualities in them, like frost or heat resistance, what changes and challenges climate change may bring about in our weather patterns - and what new pests or diseases changing weather patterns may bring. Everything has evolved to grow somewhere - so there will always be some varieties of staple food crops that are suitable to grow somewhere, just as long as we make sure we preserve all their precious genes in case we may need them in the future. Not only that, they are part of our social history too. We owe a huge debt of gratitude to all of the growers and gardeners down through the generations before us, who saved the seeds to pass them on down to us. We have an obligation to them to keep their precious legacy going and growing for our children and for future generations to come.
<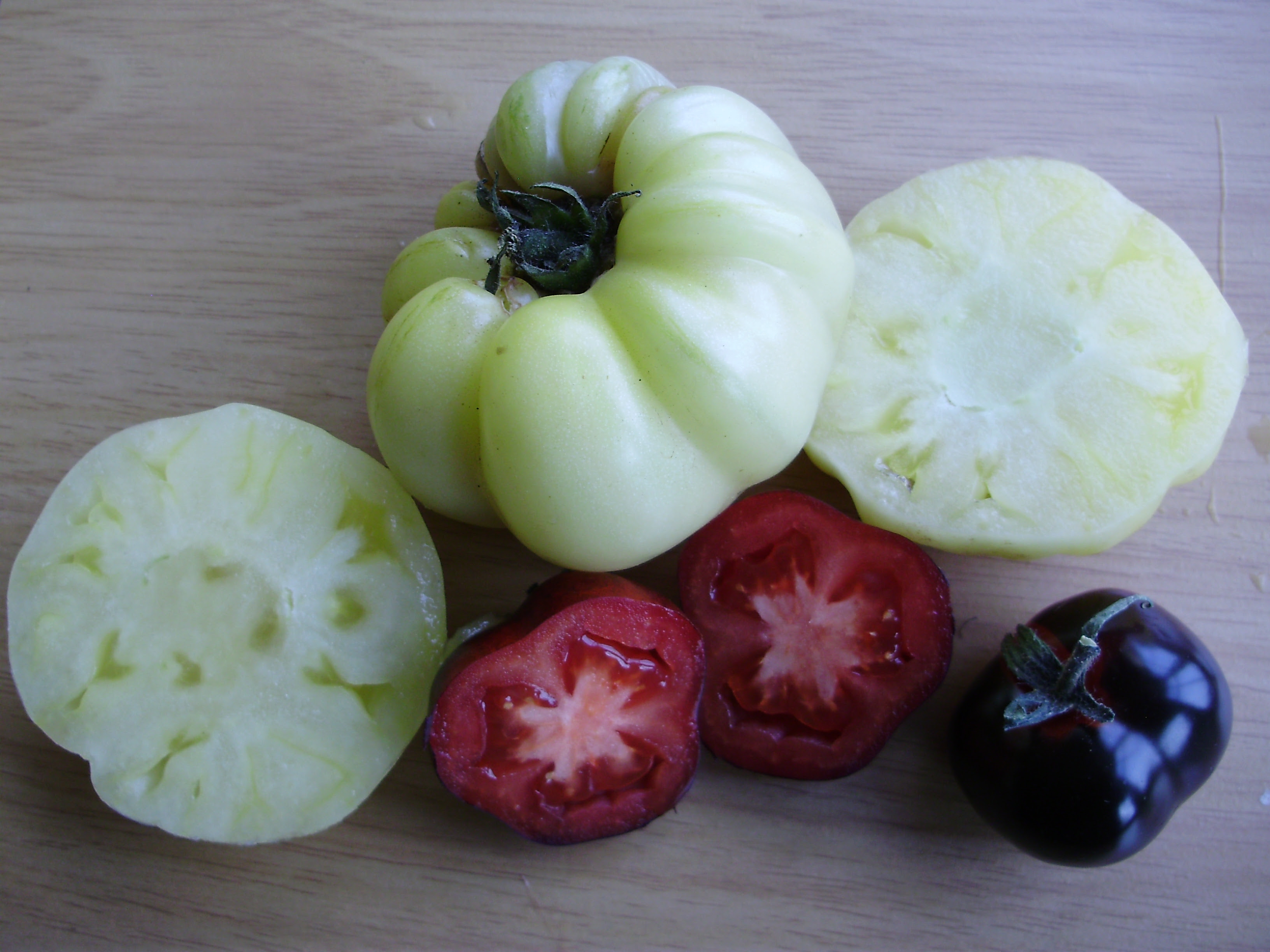 'Ebony and Ivory' - the contrasting colours of tomatoes Indigo Rose & White Queen
The fact that we all eat some plant foods means that genetic diversity - not just in tomatoes but all food crops is a hugely important issue that potentially affects all of us. 
It's daily becoming even more vitally important - with climate change, soil loss, destruction of habitats with subsequent loss of wild crop relatives. It's a subject which I've always cared passionately about. Tomatoes are a wonderfully colourful and joyous celebration of nature's abundance - in fact they're a really 
'Terrific' (!) 
way to illustrate genetic diversity in all it's surprising and eye-popping abundance, to a public who often only know the plastic-wrapped, plastic-
tasting imposters that pass for tomatoes on today's supermarket shelves! 
To the best of my knowledge - the variety Indigo Rose, pictured here, was grown and also seen for the very first time in the British Isles at the 2012 Tomato Festival! I was browsing the internet looking for tomato seeds in early 2012 - as you do - and came across this stunning new variety. I had run a smaller version of the Tomato Festival at the National Botanic Gardens back in the early 1990's - it was called a Tomato Day which a few enthusiasts attended. But that was really just a tiny seed of the idea - which waited in the background and germinated instantly when I saw Indigo Rose. That sowed the idea of the newer version of the TomFest as a brilliant way to show the wider public the importance of genetic diversity! Indigo Rose was originally bred by Oregon State University, while seeking to breed tomatoes with naturally higher levels of health-promoting antioxidants and it was released in the US for the very first time in 2012.  It's not a Genetically Modified or engineered variety (or GMO) produced in a laboratory. It was naturally bred from a wild tomato growing in the Andes which had very high levels of the purple-coloured anthocyanin phytochemicals in it's leaves and fruit, and it is now the forerunner of many other black tomatoes that have been naturally bred since then. 
Anthocyanin antioxidants help to give plants protection against many diseases and also protect their skins from sun damage. They do exactly the same for us when we eat them! Anthocyanin phytonutrients are found in many purple vegetables and fruits - and as I often mention - these are scientifically proven to boost our circulation and our immune system. This is why it's so important to include plenty of them in our diets. They are clearly very effective because it's definitely one of the healthiest tomatoes I've ever grown - so I can forgive it's slightly 'less than fabulous'  flavour!  In all we had almost 100 varieties at that first Festival. People were amazed by the unusual look of the Indigo Rose tomatoes and even asked if they were giant blackcurrants! It looks stunning contrasted here with the beefsteak White Queen. Celebrity chefs eat your hearts out!  I must say I found it irresistible when I saw it - it was what gave me the initial idea for the first Totally Terrific Tomato Festival in 2012. I would be the first to admit that it's not the most tasty tomato - but what it lacks in flavour it more than makes up for in looks! It does improve on dehydrating though, which concentrates the flavour! But of course it's main attribute is that it is naturally so high in healthy anthocyanins.
It's always such fun showing people the amazing genetic diversity that there is to choose from - and watching the wonder on their faces when they realise that what they're looking at are actually tomatoes! It's also vital to convey how important it is for our future food security that we preserve the genetic heritage in all of our food crops. If we only grow the commercial varieties that we see in supermarkets - before very long we could be in serious trouble - if they were struck by some incurable disease. There are many genes in wild or naturally-bred tomatoes which could be vital for use in future natural breeding programmes. They could possibly even be the saviour of all tomatoes or other crops, if they were to be threatened in the future by some as yet unknown disease, possibly brought about by climate change.
Who could possibly imagine a future without tomatoes? Impossible isn't it?
I simply couldn't imagine my summer without eating them fresh - or my winter without delicious and healthy tomato sauces or semi-dried tomatoes to use in all sorts of treats! Journalist Fionnuala Fallon asked me a few years ago to name my absolute favourite variety for an article that she was writing for the Irish Times magazine. But as I said to her - it's a bit like asking someone to name their favourite child - impossible, as they all have their different qualities and I love them all!  I definitely get an uncontrollable urge to hit all the 'buy' buttons whenever I look at websites selling unusual varieties I haven't tried! Anyway - someone did say once that my epitaph should be "She never did anything by halves"!  Hmm.... They may have a point there!  I think there could be a happy medium somewhere! I really am a hopeless case! But being a tomatoholic/tomatophile isn't really such a bad thing is it? Given that there's about 12,000 varieties of tomatoes out there - I'll definitely never run out of new ones to try!
Despite flooding again and hard frosts - it's time to start sowing as it's now officially spring!
Never have the benefits of polytunnels been shown more clearly than over the last week! Despite the cold and very wet weather, I've still been picking lots of salads and other veg like broccoli and chards from the polytunnel.  It's beautifully sunny this morning - but it still feels more like winter! We were without electricity to the polytunnels at one point during the recent storm, so after my horror at discovering they had unknown to me spent a night at 0 deg C - I had to hastily bring all my tiny newly emerged tomato seedlings into the house for a few days, until I sorted out an alternative source by running an extension from the outhouse where the freezers live!  As a result - they're looking a little bit stretched to say the least - but they'll soon straighten-up and grow stronger in a few days, now they're getting some proper light again. I still have lots more to sow - so I hope the weather will improve.

March is always such an exciting month in the polytunnel - it's my horticultural Narnia and a very 'alternative' world to the one prevailing outside!  In there it's a very different story, spring is already everywhere.  Primulas, narcissi, violas, feverfew and wallflowers flowering at both ends, and in the little gardens planted around the foot of the grapevines halfway along the sides.There were even a couple of bumblebees in there over the last couple of weeks - anytime there was a rare mild day and the sun warmed the tunnel!  I'm so glad that as always, I'd planted some early flowers in there to attract them in - the scent of primulas and wallflowers is wonderful when I open the door. The peach buds are already swelling and In three or four weeks they will be in full flower. Encouraging bees to visit the tunnel to do some of the pollination by growing flowers for them will mean plenty of juicily delicious peaches again come July - although that seems a long way away right now! 
The soil temperature outside in the open garden is still very low, and it's so saturated now after all the rain, that there's very little you can usefully do outside at the moment - but to get ahead you can start lots of things off in modules and pots inside for planting out in the garden later. Even if you don't have a greenhouse or tunnel and are only dreaming about one at the moment - there's still a lot of things you could sow on your windowsill that could go out into a cold frame or in a protected propagating area outside, once they've germinated in a week or two. I describe how to organise one made from an old table in this month's Vegetable Garden Diary. That's how I used to do all my seed sowing before I had my first tiny polytunnel - a 6ft x 8ft. Yes - I've been there too - and it encourages you to use your space very efficiently and inventively - something I've never forgotten! I still don't waste an inch in my polytunnel. You can't afford to - they're not cheap items!  I worked out a few years ago that any polytunnel, if it's well organised and properly cultivated all year round, should easily pay for itself within 3 years! Even if you only saved yourself £20 or 25 euros a week on fruit and veg. - within a year you'd have saved enough for quite a decent tunnel. Think about that!
This is how I sow my Tomatoes - and other tender crops
Just inside my main tunnel door, on the left, I have a propagating bench. It's a very busy place at this time of year - so much happening and changing every day. So many reliable old friends appearing once again, kick starting another gardening year, and a few exciting new ones too!  At the moment in the warmest propagator there are sweet peppers, chillies, aubergines, celeriac, tomatoes, etc. physalis (also called golden, Inca or Pichu berry),  These are all just starting to appear above the compost. As soon as they do I immediately remove their individual polythene bag covers which have kept them nice and moist up until then. Having each pot in an individual bag means that they stay nice and moist until the seeds have germinated, which helps the seeds to ease their way up out of the compost. It also stops too much moisture collecting around seedlings that are already up, when they need less moisture but still need to be nice and warm. This stops diseases developing. 
After germination, they spend a few days in the propagator, moving gradually nearer to the front where the lid is propped open a bit for more air circulation, and then as soon they look ready - they get moved out into the frame on the heated mat, which is at a much lower temperature, only supplying a bottom heat of around 50 deg. F. Things get too 'soft' if they're left in the propagator for too long. The heated mat is a roll-out heated foil mat a bit like an electric blanket. It uses far less electricity than the small warmer propagator. It's just warm enough to keep things moving gently along, and they get covered at night with one or two layers of fleece to keep any possible frost off the tops of the plants. It's a good 'halfway house' for plants raised in heat to progress eventually to the main beds in the tunnel for tunnel hardening off. About 20 yrs or so ago, it was discovered that 'brushing' tomato plants a couple of times a day stimulated a growth hormone call Jasmonic acid, which is supposed to have the effect of making them a bit sturdier. A lot of nurseries had a 'boom' which passed over plants to do this a few times a day. I tried it with a very soft, long wallpaper pasting brush - but frankly, I'm not sure it made that much difference to mine. Not pushing them with too much heat and giving them plenty of light and space will produce nice sturdy plants - and you won't risk possibly causing disease by being a bit 'heavy -handed' and bruising tiny seedlings!
Tomato seedlings in the propagator - packed tightly together in square pots to be energy efficient
I'll be sowing the last of my tomatoes this week - I sowed some earlier on to check the germination on home saved seed. It's always good though - so have quite a lot of Pantano Romanesco beefsteaks and various other babies already potted on!  I'm hoping to have some Pantano earlier than ever this year - I can't wait to taste that meltingly delicious Mediterranean flavour again! People who don't eat seasonally miss so much. Nothing imported can ever give that same anticipation of enjoyment. The next week or so is about the right time to sow tomatoes in most average years - because you don't want your plants to get too big, too early - or you won't be able to keep them warm if it's a very cold spring. On the other hand - if you sow very much later than the middle of March - you'll be half way through the summer before you get any ripe tomatoes at all! 
I like to eat my first ripe tomatoes - always the dependable bush variety Maskotka - in the first week of June.  Maskotka is already potted on and has four 'true' leaves. It should fruit really early if we have a decent spring. Sown in a warm propagator now - most tomatoes should be just about the right size for planting out in early to mid-May. I sow mine in 85 cm (or 3&1/2 in) square pots of Klassman certified organic peat-free seed compost - but any size pot will do fine as long as you make sure they're clean and you're sowing into a good reliable seed compost. 
I like to use square pots because they fill up the propagator space nicely, with no gaps for heat to escape.  What small gaps there are I fill up with scraps bubble wrap to ensure absolutely no heat is wasted and that the propagator doesn't overheat. I fill the pot with compost and firm down gently, make a hole with the end of a pencil or biro about 1/2cm deep in 4 or 5 places - one at each corner and one in the middle - put a seed in each hole - cover them with vermiculite, gently water the pot - letting any excess drain away, label them (important) and then cover them with a plastic bag. Most tomatoes take about 4-5 days to germinate and most modern F1 varieties will pretty much all germinate at the same time. Often the non-F1 or old Heritage varieties may stagger their germination over as long as 2-3 weeks. That's a fascinating way that nature ensures their survival, so that some will usually be successful and will keep the species going. So don't give up after a week or so - they can often take longer depending on the variety - anything up to 3 weeks I've found. Tomatoes, like people, are all different! They'll be able to stay in those pots until the roots are almost filling the pots - then you can gently split them up and pot them on singly. If you don't have a heated propagator, you could germinate them in any warm place like an airing cupboard, or the back of your range cooker if you have one, but then bring them immediately out into the light as soon as they are up above the surface of the compost. Then a really light windowsill is OK for them if you don't have any heated space in a greenhouse - but be sure to bring them inside the room at night before you close the curtains, so they don't get chilled - and if the windowsill is south facing you will also need to shade them from strong midday sunshine, or put them on a different windowsill if it's very sunny because they will fry! It is surprising how strong the sun can be at midday in March - and last week I sat in the polytunnel at lunchtime and for the first time I felt the sun actually burning my face. It was a good feeling - but not good for too long! 
Use Peat-free seed Composts
I can't stress enough just how important it is to use a really reliable, organic, peat-free SEED compost. Don't use a 'multi-purpose' compost as they may contain far too much fertiliser which may burn the young roots, and they will also undoubtedly all contain some peat if not be all peat!  Many seeds are very sensitive to a high nutrient level in the compost - and seed is expensive so you can't afford to waste it!  Added to that it's especially important that they are peat-free - and if you're a regular reader you will already be familiar with the many environmental reasons why NONE of us should be using peat in ANY form in the garden! I talk about it so often I won't repeat them again here.
I always try to share my money saving tips here in my blog - but compost is one example where trying to save money is false economy. In my experience - you get what you pay for!  
There are a few peat-free composts available now from DIY multiples, but I've tried most of them and they were all dreadful! They weren't organic either! I personally prefer organic as artificial fertilisers discourage soil life - something that organic gardeners always try to encourage.Several garden centres here are now stocking my favourite organic peat-free composts  - made by Klassman, botht the seed and the potting composts. They are by a very long way the very best composts of any sort that I've ever used!  In Ireland, Klassman composts are available by mail order from 
Fruit Hill Farm - 
https://www.fruithillfarm.com/
  (the Irish importers) but the postage is quite expensive and will cost you as much as just one bag of the compost!  If your local garden centre doesn't stock it then ask them to! If you're anywhere near north Dublin,  White's Agri at Ballough, Lusk, Co Dublin (on the old main Dublin-Belfast road) also stock it now too - 
http://www.whitesagri.ie/Products/GardenAllot.aspx
. 
Organic peat-free compost is a bit more expensive than some of the others I'll grant you - but as I've so often said - believe me it's worth every single cent. I wouldn't sow valuable seed into anything else. Seed is so expensive now that you only have to lose a couple of packets and that would have paid for a bag of decent compost!  Being peat-free you can also feel good about not destroying peat bogs and preserving biodiversity too! And before you say that making it miles away in Germany isn't very environmentally friendly - making it in bulk, from organically grown plant material, is actually a carbon-friendly activity - and shipping it in bulk to the UK and Ireland is many times less destructive, less carbon-emitting and so much better than digging up our precious, biodiversity-rich peat bogs!
I don't need as much of the seed compost as I do the potting compost, generally only getting through 2-3 bags a year even with a big garden and growing all our own food. If you only have a small garden and the bag of seed compost is more than you think you'll use in a year then you can always split it with a friend. Although if kept undercover I find it doesn't go 'off' like other composts, and will last for quite a long time - at least 2 years - as long as you keep it dry and cool.  I've even used 3 year old compost and it gave perfect results. Make sure that wherever you buy the compost, they have also kept it dry and cool. Never ever buy saturated composts that have been sitting out in winter weather without being covered! If the compost hasn't been stored properly - the natural ingredients in it will have changed and plants may either be starved or get diseased. White's Agri are also the Irish agents for my favourite organic plant foods - the 'Osmo' range. The liquid tomato feed is brilliant and thoroughly reliable, as are the other products. 
Potting on tomato seedlings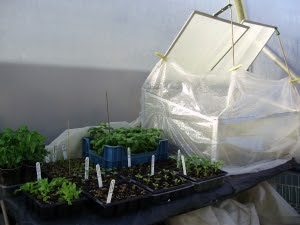 My warm propagation area - where a heated mat sits on top of an insulated bench -  (a recycled door actually!)
I always move my tomato seedlings out of the warmest propagator (18degC./65deg.F+) and put them onto the more gently heated mat (about 10degC./50degF+) as soon as they have their first 'true' leaves showing - otherwise they can quickly become very 'leggy', (or etiolated) from too much warmth without enough light. After a few days - I separate all the seedlings out of the small square pots they were germinated in as soon as they are big enough to handle, potting them on individually into quite small pots like white plastic cups - which conveniently and vitally can be written on with permanent marker so I know what variety they are. These have a slit for drainage cut into either side across the cup bottom with scissors. I always pot on twice before planting as potting straight into a large volume of compost can lead to rotting, if the roots get too wet. It also means that the smaller pots take up far less valuable space on the heated mat. Warm space is always at a premium at this time of year and I don't like to waste energy. The plastic cup potting is an interim measure before their final potting on into recycled milk cartons - as these are far too big for very small seedlings. I find that milk cartons are deep enough to give them really good root room until planting later on and again are handy as you can write their name on each carton - rather than using a label which could get lost. Growing so many different varieties of tomatoes - in some Tomato Festival years as many as 48 - this is very important for me or they're easily mixed up!  I start saving milk cartons now - the family know that from the beginning of March milk cartons are not to be put in the recycling bin or I scream! While they may not be the most attractive greenhouse feature in the world - they're very effective! 
I'm constantly shifting things around the heated space at this time of year - a bit like playing musical plants!  I know it seems a lot of bother - but it's very little trouble actually - and a pleasant job that's well worth doing to be able to eat really ripe tomatoes on 1st June!  No plastic-wrapped, carbon-intensive, imported imposter of a tomato can ever possibly compare with the flavour of a sun-warmed, home grown one, picked and eaten straight off the plant! The aubergines will be potted on in the same way. They'll all spend a few weeks inside the light plastic cold frame on the heated mat. This prevents possible cold draughts from the open tunnel doors. I have the top of the frame open - with bubble wrap pegged to canes higher up around the side for the first week or so. Then I remove that - and finally they'll all go out onto the other mat without the frame to make way for the cucumbers and peppers - which appreciate a bit more early warmth. 
Any bubble wrap you can salvage is really useful - always save it - even tiny amounts. It makes extra insulation for propagators tops at night - and even the smallest bits can be used to tuck in between pots to fill in any spaces between pots inside the propagator or on heated mats to stop heat escaping, thereby saving energy and also stopping it overheating through working too hard to replace any heat lost from gaps. It's amazing how many pictures I see on social media of propagators with a few pots sitting in the middle and with no insulation around them - this means that the propagator is losing heat the whole time. Filling up empty spaces with bubble wrap or some other insulation like fleece will save energy and saves money!
By the way - if you're using a heated propagator - it's important to wipe the moisture off the inside of the propagator lid every day - where it tends to condense. If you don't do that - it can drop down onto seedlings and possibly cause fungal diseases in the warm, moist atmosphere. Attention to detail is always the key to successful propagation, or in fact at any stage of growth. 
Protecting seedlings while providing good air circulation is key
Good air circulation is really important in a polytunnel at any time of year, but particularly from now on. Trays and pots of all sorts of other seedlings are already jostling for space in the propagator and on the heated mat. From now on - the hardier ones, like broad beans, peas, lettuces, cabbages, calabrese and cauliflowers have to take their chance just under fleece in the main part of the tunnel at night, without artificial heat, as there are so many others, like celery, tomatoes and onions, and tender bedding plants like nicotiana and french marigolds that still need that extra bit of warmth just to germinate. I stand the trays and pots of the more hardy types of veg. on black polythene on a spare tunnel bed. The black polythene absorbs the rays of the sun during the day (if there are any!), heating up the ground underneath, and this amazingly keeps them about 4 deg C warmer under their double fleece 'duvet', than the ambient temperature in the rest of the tunnel. So far this year - doing this has saved my extra-early potatoes - finger's crossed. During the day I uncover them, normally when the sun gets high enough to start warming the tunnel up a bit.(around 9 or 10 am-ish). If you don't do this, stagnant moist air gets trapped under the fleece, encouraging disease.. Later on, depending on the amount of sun, I open one or both of the doors at either end for more ventilation, as long as it's not too windy. In the evening, around 4.30 or 5pm I then re-cover those crops that are 'fleeced' at night, and close the doors. In the next few days more frosts are forecast - so make sure anything vulnerable is covered at night!  Frost does an awful lot more damage once plants are starting to grow more quickly again - as they are now. 
 
Shading small seedlings is important from now on
Any sunlight is getting much stronger from now on, so I keep some fleece suspended well above the small seedlings on the propagating bench in the tunnel - in order to shade them at midday if the sun suddenly comes out. In the greenhouse it's a lot easier, you can just shade the glass by painting on 'Coolglass' paint - a powder which you mix with water and paint onto the glass. Mix it up in an old measuring jug or similar, put into an old baking tin or paint tray and use a paint roller or soft household sweeping brush to brush it all over the roof and about half way down the sides. Do this in dry weather, then once dried, it won't wash off again in rain. It just cleverly turns clear again when wet - letting more light in. Heavily abrasive hail may damage it, but you can re-apply it, and then in the autumn you can remove it by just brushing it off again on a dry day. Unfortunately the tunnel is too big and difficult to paint unless you have a helicopter! So fleece or shade netting is the only answer there. 
While on the subject of fleece - another of my money saving tips.  It's a lot cheaper by far to buy a big roll of it from your local agricultural supplies shop. You'll get one for around 20 euros or so, and then you can then split it up with friends. A small packet of fleece from a garden centre or DIY store will cost you almost the same - though in some you can buy it by the metre from a large roll.
Keep a careful eye out for slugs or other pests in propagating areas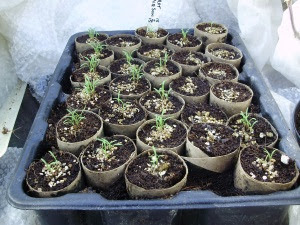 Slime trails were still visible where a slug got in and vandalised my 'Purple Sun' carrots last year! 
One other thing to look out for in propagation areas are those nasty little grey slugs which can sneak in, clinging to the bottom of seed trays or climb up the sides of the tunnel. I discovered one morning that one had snuck in and mown 1/3rd of my loo roll sown 'Purple Sun' carrot seedlings, which had all germinated beautifully. Good job you couldn't hear the fairly choice language ***** more appropriate for the stable I can tell you!! Probably my own fault for putting a potted plant on the heated mat to get it growing encouraged by the bottom heat. It was a plant of the beautiful silver foliage plant Plectranthus Argentatus. I was in a hurry the day I moved it and don't remember tipping it out of it's pot to check for any pests before putting it on the propagating mat. One learns far more by mistakes sadly!! Aren't I always saying that?
I recently had a query about the purple potato Purple Majesty - someone asked me if the Sarpo Blue Danube potato also had purple flesh- because they couldn't get Purple Majesty. It doesn't - it has bright white flesh with a purple skin - so you definitely won't get electric blue mashed potatoes from that one! I grew it a few years ago when it first became available - it's one of the 'Sarpo' supposedly blight-resistant ones. Not only did it not have much flavour - but I didn't find it very blight resistant either!  In my opinion - there's no point in growing any potato unless it has a fantastic flavour - even if it has some blight resistance. This year I'm growing a new purple or blue variety - Blue Annaliese - from Fruit Hill Farm, which sounds very promising.
I've always grown for flavour rather than bulk because I like eating tasty spuds and we don't eat them more than a couple of times a week at the most because of their high carbohydrate content.  I always lower that though, by about 50%, by using a process known as 'retrogradation' - where I cook them all one day, chill them overnight in the fridge and reheat them for eating whenever I need them! This doesn't just save time and energy - but also turns the starch in them into something known as resistant starch - which our gut bacteria love - so doing this is great for our gut health too, as I mentioned on Gerry Kelly's Late Lunch Show lately! It's also a great time-saving tip if you're busy during the week!  I know some who may disagree with me - but taste can be a very subjective and personal thing - often perhaps linked to the perception that 'newer' is better. Not always the case in my experience! Something to do with plant breeders rights means that unfortunately you can't get Purple Majesty seed here in Ireland - so I've always saved my own seed tubers. It has a fantastic 'old baked potato' flavour - despite being a new introduction only a few years ago. It's much the best-flavoured purple fleshed potato too - and I've grown dozens of them over the years - having always been interested in the plant phytocyhemicals they contain.
There are other purple potatoes I like too. A very old variety - Truffe de Chine - is a salad type with a similar same shape to 'Pink Fir Apple'. It's almost black and has a lovely flavour. You can sometimes find it in upmarket veg shops. I found mine well over 30 years ago in Harrods food hall - always worth investigating for interesting things to grow if you're in London! It's amazing what you find in there. Vitelotte is another delicious purple-fleshed one which is more blight-resistant than many and good for organic growing - some say this is actually Truffe de Chine - but I've found them to be slightly different. 3 years ago I grew Violetta for the first time - another deep purple one. I wasn't that impressed with the flavour of some non-organically grown Violetta I tried from a well-known Dublin shop - but growing them without chemicals made a huge difference to the taste - I really loved the ones I grew here! Now a lot more people are growing the purple or blue varieties. Salad Blue is another tasty, easily available variety. A few years ago the renowned potato expert Dave Langford, who lives in Co Mayo, gave me a few lovely old varieties, including a variety he bred himself - called Dave's All Blue 2011, which makes a very tasty mash although it's a bit blight-prone. Since I invented my method of starting potatoes off early in pots though - I have all the potatoes I need all year round using my method, and I never need to spray, even with copper sulphate.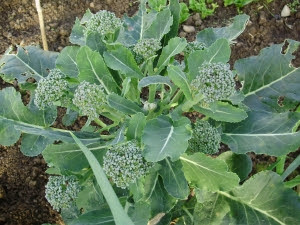 Calabrese broccoli 'Green Magic' making good side shoots after central head cut 
 
 
The overwintered calabrese 'Green Magic' (from Unwins) has yet again come up trumps (sorry!) and it's done really well despite a much colder winter than last year. On the very worst nights it was covered with a several layers of fleece. It's such a sweet variety and not just good for lightly steaming but also really good raw for dipping individual florets into hummus or any avocado dip. It's a terrific variety, thoroughly reliable and long- cropping all year round both in the tunnel and outside. It's the only one I b other to grow now in the tunnel. I sowed two dozen last month in the propagator - one dozen will be planted when big enough into the tunnel, and will crop by May. The other dozen will be hardened off and planted outside, which will make them crop about 3 weeks to a month later in a normal year. This is a good way to spread the cropping time of any crop.
 



 
I like to be able to pick an interesting and varied salad every day all year round so I'm really grateful for luxury of a polytunnel. There are still plenty of lettuce, endives and other leaves of various sorts - mostly loose leaf varieties that have cropped really well all winter. 'Lattughino' is one of my favourites - with crispy bronze-tinged leaves. Jack Ice is another - rather like an Iceberg but a loose-leaf type that you can pick all winter and then allow to form quite a nice heart from March onwards. 'Veneziana' an unusual sword shape Cos type and delicious, 'Belize' is another good one - an oak leaf that will also form fat hearts now. Fristina is another excellent crispy loose-leaf type. Good old 'Lollo Rossa' is great for some reliable red colour - and also the Cos varieties 'Marshall' and 'Nymans' - one's really spoilt for choice these days with so many new lettuce varieties every year - but you don't have to go for expensive F1 hybrids - some of the 'value' mixes - like B&Q's are fantastically cheap - 60 cents for 1200 seeds!  Great if you're watching the pennies - costing almost nothing per lettuce! The value mixes mostly contain older varieties that are easy, colourful and reliable for all year round growing - either sown thickly for baby leaves or as individual whole lettuces. The endive pictured here - an old Italian variety 'Riccia Pancallieri' is very bitter when green - which I don't like - but if you blanch it by covering it for 2-3 weeks under a large pot as the old Victorian gardeners did - it is beautiful and really delicious in a late winter salad - with a nice fruity/sweet dressing like my walnut oil/cider vinegar/honey & orange dressing which goes with everything and is full of healthy omega 3 oils. The photo above of the blanched and un-blanched endive side by side really shows what a difference blanching makes!
Four years ago this weekend - after all the fuss about the lack of imported lettuces and other salad vegetables in shops due to the bad weather in Southern Europe, I decided to see exactly how many I could pick from my polytunnel.  Pictured below are 27 varieties which surprised even me - and when picking them to arrange this delicious display - I actually even forgot a couple like lamb's lettuce and Chinese chives! Here's the list which many people asked me for - in no particular order:
Watercress, Chinese cabbage Scarlette, Giant Italian flat leaf parsley, Cos lettuce Nymans, Red leaf radish, Sorrel, red oak leaf lettuce, ruby chard Vulcan, green Mizuna, frilly leaf mustard, rocket, red-veined sorrel, endive White Curled, red cos lettuce Rosedale, chicory Sugar Loaf, bronze stemmed chard, mustard Yellow Frills, spinach, mustard Giant Red, lettuces Lattughino, Little Gem & Jack Ice, red Mizuna, claytonia, kale Ragged Jack, mustard Red Frills, beetroot leaves McGregor's Favourite.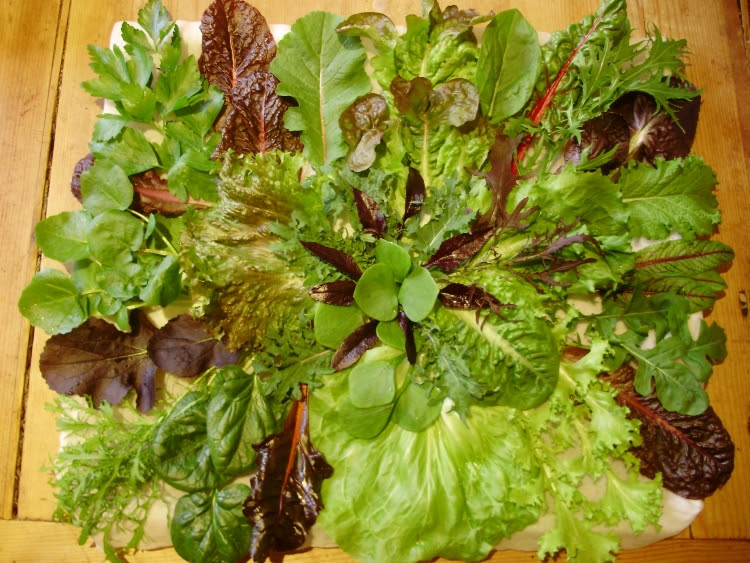 27 different kinds of salad leaves - all picked from the polytunnel - 23.2.17
This is one of the most difficult times of year for ventilating greenhouses and tunnels.
Temperatures can fluctuate wildly now. From freezing at night - to rising alarmingly during the day when the sun comes out, and quickly becoming dangerous for small tender seedlings, even 'cooking' them if one isn't careful!  But at the same time, a vicious March wind can get up seemingly from nowhere, often before a sudden shower, and things can then be a bit draughty to put it mildly!  One also has to be careful that small seedlings aren't sitting in a draught. I'm on a very windy site here, about 400ft above sea level, not far from the coast in one direction, with a lot of open flat land for miles in the other - and until the trees I planted originally grew big enough (including the dreaded Leylandii and eucalyptus) I lost greenhouses on three occasions and a polytunnel!  Without the Leylandii in particular, I wouldn't have a garden here at all. So I appreciate mine. (The starlings always roost in them too - another reason to like them - although my neighbour blames them for harbouring pigeons!) I don't know why some people are so snobby about them. I think it's because they're usually planted in a totally unsuitable place and 'tortured' into being a hedge. As an individual tree, they actually make a very nice specimen if allowed the room to develop properly. - And they need a lot - they are completely unsuitable for small gardens. 
But I digress........Always watch the weather forecasts and keep an eye on wind direction in particular - a sudden severe gust of wind can rip off tunnel doors - or burst out and scatter panes from greenhouses as if they were confetti. I know that from bitter experience!  Get to know your local weather and prevailing wind direction, always make sure tunnel doors are fastened securely - whether open or shut - and always keep plenty of tunnel mending tape handy!  Apropos of that - I was really sorry to hear that a few local allotment holders had lost tunnels over the winter. I know how heartbreaking that is. But speaking from experience - never, ever, try to re-use hoops from the lighter types of tunnels - they will collapse again far more easily if you do. Recycle them as fruit cages or perhaps to make lower large cloches over veg beds - and save up for a much stronger replacement. As I've said before, a good strong tunnel should pay for itself easily within 2-3 years - even if you save only 20-25 euros a week on fruit and veg! After that you're quids in! If I had to choose between a really good strong polytunnel and an annual holiday in the sun - the polytunnel would win every time. After all - you can sit in there and enjoy the sun all year round and save lots of money at the same time. What holiday does that?
Watering is one of those things you must take a bit of care with too. 
A little trouble can save a lot of heartache! I keep a big black barrel full of rain water in the tunnel, so that it's the same ambient temperature as inside the tunnel, rather than bringing in freezing cold water from outside or using the hose. This barrel water I use for watering plants in pots and also seedlings in trays - always watering from underneath. I have a large tray, about 4-5in. deep, and fill that with the water from the barreI, sitting the seed trays in there for a minute or two, until they've taken up just enough water. I prefer to all water seedlings in modules or seed trays from underneath, so that they don't become completely saturated, that way they stay slightly less damp around the stems, which is where 'damping off' disease can quickly attack in seedlings if they're too wet. That's another reason I use vermiculite for covering seed when sowing. Vermiculite is a completely sterile, open medium, which promotes really good air circulation around the stems. When I'm watering crops in the ground, I always water the ground between the plants, rather than directly onto their roots. They don't like a sudden cold shower any more than we do, when they're just beginning to be encouraged into growth by the spring sunshine. Even in the height of summer, I always water between plants - and if at all possible - early in the morning, so that any surface dampness has a chance to dry off before the evening when the tunnel is closed and the air isn't moving - doing this discourages fungal diseases and avoids plant losses.
Keep on top of weeds now, mulching, hoeing or carefully hand weeding if necessary between crops. Give overwintered leafy crops like chard, spinach and salads a light dressing of a fast-acting organic feed such as worm compost, or if you don't have any compost, Osmo Complete granules. Scatter around the base of the plants, not on the foliage and water it well in. There should still be quite a lot of cropping potential in many things before they finally run to seed, as long as you keep them well-watered as the tunnel warms up and they start to grow more and need more water. Be careful to water in the mornings if possible to allow the surface to dry off before night time though - you don't want a lot of condensation hanging around to create a damp atmosphere and possibly cause disease. Keep up the good housekeeping - removing any dead, diseased or damaged leaves, to avoid disease spreading. Keep slug hunting, it's amazing how much damage one tiny grey slug can do to a nice head of lettuce. They do eventually become less of a problem after a couple of years - however bad they are in a new tunnel at first. Look around when you're tidying dead leaves etc.- that's where they love to hide. Don't use slug pellets - you'll be killing helpful frogs, soil life and birds etc.!
Cut down and incorporate into the surface, or leave as a surface mulch any previously sown green manures. Worms are getting active in the tunnel now as the soil warms up, and will appreciate a nice hearty breakfast - they'll do a lot of your work for you if you feed them well. Green food is what they like best - not already rotted manure. If you have vacant ground, where you won't be planting until May it's still worth sowing a quick growing 'soft' green manure, like fenugreek, lupins, mustard, red clover, borage and phacelia. Or even early peas that you can use for some pea shoots and then dig in - a double whammy - nitrogen fixing too!  Make sure the varieties fit into your rotations though - and don't follow them with a member of the same family. 
Bring some pots of early single flowers into the tunnel now to attract early hoverflies, bees and ladybirds, and maybe even a pot of stinging nettles! Yes, you read it right, nettles in a pot! They are one of the most important plants in the garden for feeding early, just emerging ladybirds, which voraciously feed on nettle aphids. These aphids are actually specific to nettles, so don't be worried that they may migrate to other plants - they won't. A few years ago on 1st. April, I was giving a talk to our local Green Party - which I was one of the founders of over 30 years ago with our former Green Minister for Horticulture Trevor Sargent. I took a pot of nettles along  - and it was highly amusing for the first twenty minutes or so- there were some very puzzled faces - until I explained exactly how important they were. I think most of them thought that it was either an April 1st. joke - or I'd completely lost the plot (always a possibility!!)  Don't forget that old classic excuse too - that wildlife loves untidy gardens. That covers a multitude - including nettles - (beneficial companion plants naturally - if nosy neighbours ask!) I've seen masses of overwintering ladybirds in the tunnel so far this year - so I hope the robins and wrens that are currently busy hunting in there don't find them!
Don't forget that a polytunnel isn't just full of vegetables and seedlings for growing healthy food at this time of year though - it's also full of hope too. That priceless thing we all need plenty of right now!
There's always something good to look forward to in a well-planned and well-tended polytunnel.  Most importantly of all - there's always something good to eat too - whatever the weather, as you can see from the salads pictured above. I really couldn't garden without such a valuable space now, particularly after injuring my right shoulder badly over 4 yrs ago. It's always possible to have the soil in perfect condition whatever the weather's doing outside - that makes it so much easier to sow or plant into it. I can even garden when it's dark if I want to - with a light on! The thing one must remember at all times though - is that YOU have complete control and also of course, you have total responsibility. If you really take the trouble to look after things properly though - you will get great results. 
I always say that a tunnel is like life - you only get out what you put in. And like life - with just a little bit of thought and effort you will be more than handsomely repaid!
(P.S. I really enjoy sharing my original ideas and 40 years experience of growing and cooking my own organic food with you. It's most satisfying and naturally also very complimentary if others find "inspiration" in my work......but if you do happen to copy any of my material, or repeat it in any way online - I would appreciate it very much if you would please mention that it originally came from me, as it's the result of many years of hard work and hard won-experience. Thank you!)